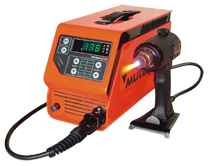 Here's why:
The innovation of Multiplaz starts with the idea of using the regular tap water as a basic working liquid. Its design is both amazing and simple.
Multiplaz is the only company worldwide that holds a Patent for this unique welding technology by use of a water-alcohol solution instead of shielding gas. It is the first company to utilize ordinary tap water for heating materials by turning the water into plasma 14400°F (8000°C).
Worldwide, Multiplaz 3500 is the only welder with such a broad range of applications.
Multiplaz 3500 can weld, solder, braze, harden, and cleanse metals including steel, aluminum, copper, cast iron, bronze and other metals.
Multiplaz 3500 can cut any metal, including high-alloy and stainless steel that can not be cut with oxygen cutting. Cutting ceramic tiles, quartz glass, bricks, concrete and other non-flammable materials is another unique feature of the Multiplaz 3500.
Multiplaz 3500 can replace a variety of different tools: welding machine, gas torch, plazma cutter, nibble shears and scissors, industrial drying fan, electric jig saw, blow lamp, inverter welder… just to name a few.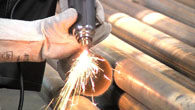 Multiplaz 3500 is successfully used in many commercial, industrial, military and residential services: manufacturing, repair and maintenance, agriculture, household, entertainment centers, art projects, all kinds of ships, marine, Navy, rescue service, etc.
Multiplaz's Design allows for a 100% duty cycle, 24 hours a day, 7 days a week.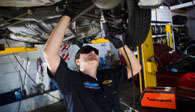 Operational efficiency is a great advantage of this unit. Despite its low power consumption, Multiplaz 3500 can concentrate the plasma stream into a small diameter jet like a laser.
This feature allows you to melt even thick 12 inch (300 mm) metal to the depth of up to 7/16 inch (10 mm), weld thin plates of 1/64 inch (0.5 mm) to thick ones, surfacing metal on bulk parts and solder tool steels.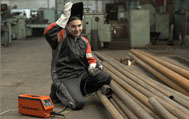 The absence of expensive consumables, including special electrodes and gas bottles with propane, acetylene or oxygen, allows for significant savings.
There is no need for costly and bulky additional equipment such as compressors, transformers and pressure regulators. The operational process has become more effective and less expensive.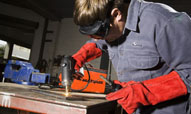 The simplicity of using the Multiplaz 3500 lets beginners master the skill of plasma welding, cutting and soldering quickly and easily.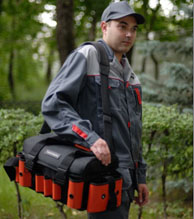 After just a few minutes of working with Multiplaz, experts realize the value and uniqueness of this tool.
Multiplaz 3500 is a compact system that you can put in a tool bag and carry it anywhere.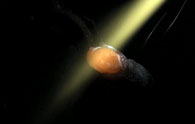 The unique properties of Multiplaz-3500 jet allow it to cleanse metal corrosion and to precisely heat only the specific part of a complex unit, for instance, to heat a bolt without affecting the nut.
The tool can cut holes of any shape in tiles without any dust during cutting.
The ray of light from nozzle makes it possible to use the tool in total darkness.
This unit's weight and size make it the best in its class.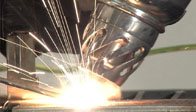 The absence of expensive consumables, including special electrodes and gas bottles with propane, acetylene or oxygen, allows for significant savings.
The pride of our company is the ecological purity of the operational process. This was unachievable in heat treatment before the Multiplaz. The Multiplaz R&D engineers of have reached an ecological breakthrough for welding, cutting and soldering.
The vapor shield that surrounds the plasma jet protects the cut or the welding puddle from the air, meaning hazardous pollutants, including nitrogen oxide, are not an issue. This vapor shield covers the whole domain under the heat treatment and also becomes a barrier for the dangerous dust that can arise from the processing surface of metal.
This Advanced Portable Machine Earned the "Grand Prix Award" for New Super Technology at the World Invention Show in Geneva Switzerland.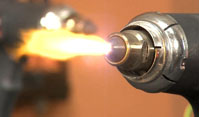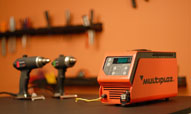 Two torches are included with the Multiplaz 3500 allowing you to easily switch modes between cutting and welding or vice versa.